Being a mom is amazing and we bet you'd agree. But let's be honest, it can also be physically and emotionally demanding. Pregnancy and childbirth can take a toll on your body, and it can be difficult to regain your pre-baby figure and confidence. That's where mommy makeovers come in. A mommy makeover at Yoel Rojas Plastic Surgery can help you feel confident and beautiful in your own skin.
What is a mommy makeover?
A mommy makeover is a combination of plastic surgery procedures that are designed to help women regain their pre-pregnancy body. The most common procedures included in a mommy makeover are breast augmentation, tummy tuck, and liposuction. However, other procedures, such as a facelift, eyelid surgery, and laser skin resurfacing, may also be included.
Why do women choose mommy makeovers?
Women choose mommy makeovers for a variety of reasons. Some women may be unhappy with the way their body has changed after childbirth, while others may simply want to look and feel their best. Mommy makeovers can help women to:
Improve their breast size and shape
Tighten and flatten their abdomen
Remove excess fat from their hips, thighs, and other areas
Reduce the appearance of stretch marks and scars
Rejuvenate their facial appearance
What are the benefits of a mommy makeover?
The benefits of a mommy makeover can be both physical and emotional. Physically, a mommy makeover can help you to improve your appearance and regain your self-confidence. Emotionally, a mommy makeover can help you feel better about yourself and your body.
What are the different types of mommy makeovers?
There is no one-size-fits-all mommy makeover. The specific procedures that are included in your mommy makeover will depend on your individual needs and goals. Some of the most common mommy makeover procedures include:
Breast augmentation: Breast augmentation can be used to increase the size and fullness of the breasts. It can also be used to improve the shape of the breasts.
Tummy tuck: A tummy tuck can be used to tighten and flatten the abdomen. It can also be used to remove excess skin and fat from the abdomen.
Liposuction: Liposuction can be used to remove excess fat from specific areas of the body, such as the hips, thighs, and buttocks.
Facelift: A facelift can be used to reduce the signs of aging on the face, such as wrinkles, sagging skin, and jowls.
Eyelid surgery: Eyelid surgery can be used to remove excess skin and fat from the eyelids. It can also be used to correct drooping eyelids.
Laser skin resurfacing: Laser skin resurfacing can be used to improve the appearance of the skin by reducing the appearance of fine lines, wrinkles, and age spots.
What are the most popular mommy makeover procedures?
The most popular mommy makeover procedures are breast augmentation, tummy tuck, and liposuction. These procedures are often performed together to provide women with the most comprehensive results.
What are the risks and recovery time associated with mommy makeovers?
Like all surgery, mommy makeovers carry some risks. These risks include bleeding, infection, and complications from anesthesia. The recovery time for a mommy makeover will vary depending on the specific procedures that are performed. However, most women can expect to take several weeks off from work and other activities to recover.
What to expect after a mommy makeover?
After a mommy makeover, you can expect to experience some pain, swelling, and bruising. You may also need to wear compression garments for several weeks to help reduce swelling and support your healing tissues. Most women can expect to return to their normal activities within a few weeks, but it is important to follow your surgeon's instructions carefully.
Is a mommy makeover worth it?
Whether or not a mommy makeover is worth it is a personal decision. Some women may feel that the benefits of a mommy makeover outweigh the risks, while others may not feel comfortable with the idea of surgery. If you are considering a mommy makeover, it is important to talk to a board-certified plastic surgeon like Dr. Rojas about your individual needs and goals.
Real Results: Mommy Makeover Before and After Photos
This life-changing mommy makeover procedure included B/L breast implant exchange with mastopexy, tummy tuck, lipo360, small BBL, and AVELI.
This lovely lady in her 50s was ready! We came into the operating room ready to reclaim her figure and increase her confidence, designing and executing a beautiful body transformation.
We can already see her incredible transformation, gaining curves in all the right places for a harmonious hourglass figure. Her breasts look round, perky, lifted, and simply gorgeous!
The mommy makeover is certainly more than just a cosmetic procedure. It's a life-changing, life-affirming, and life-resetting procedure that can help women restore their pre-pregnancy bodies and feel more confident in their own skin. While it's often associated with cosmetic benefits, a mommy makeover can also improve self-esteem and confidence.
Dr. Yoel Rojas used 400cc implants, removed 3 liters of fat, and used AVELI to improve her buttock cellulite. Bruising and swelling are improving as expected and should be resolved by week 3.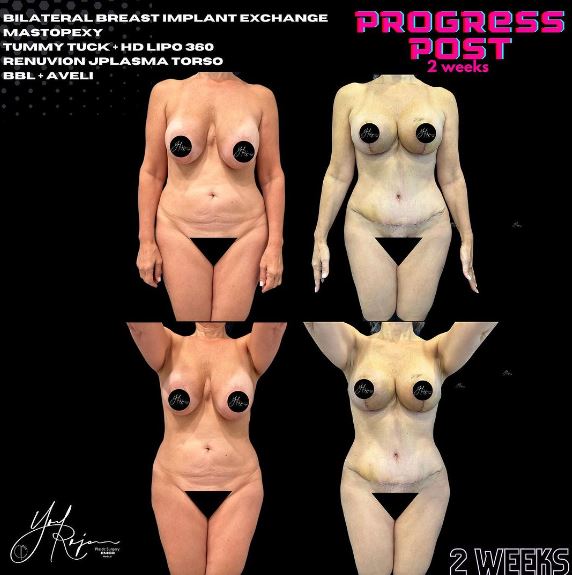 Why Choose Yoel Rojas Plastic Surgery
Dr. Yoel Rojas provides the most natural-looking mommy makeover results. His approach is personal, tailoring every procedure to your needs and desires. If you want to regain confidence in your body, Dr. Rojas can provide you with the best care and results possible. Want amazing mommy makeover results? Schedule a consultation at Yoel Rojas Medical today. We serve patients all over Santa Monica, West Hollywood, Los Angeles, Glendale, New York, and surrounding areas.